Join Pastor Doug as he opens the Word of God weekly at the following stations and times.
Tune in to find out how to get this weeks free offer!
You can call us with questions or for prayer at +91 916 916 4480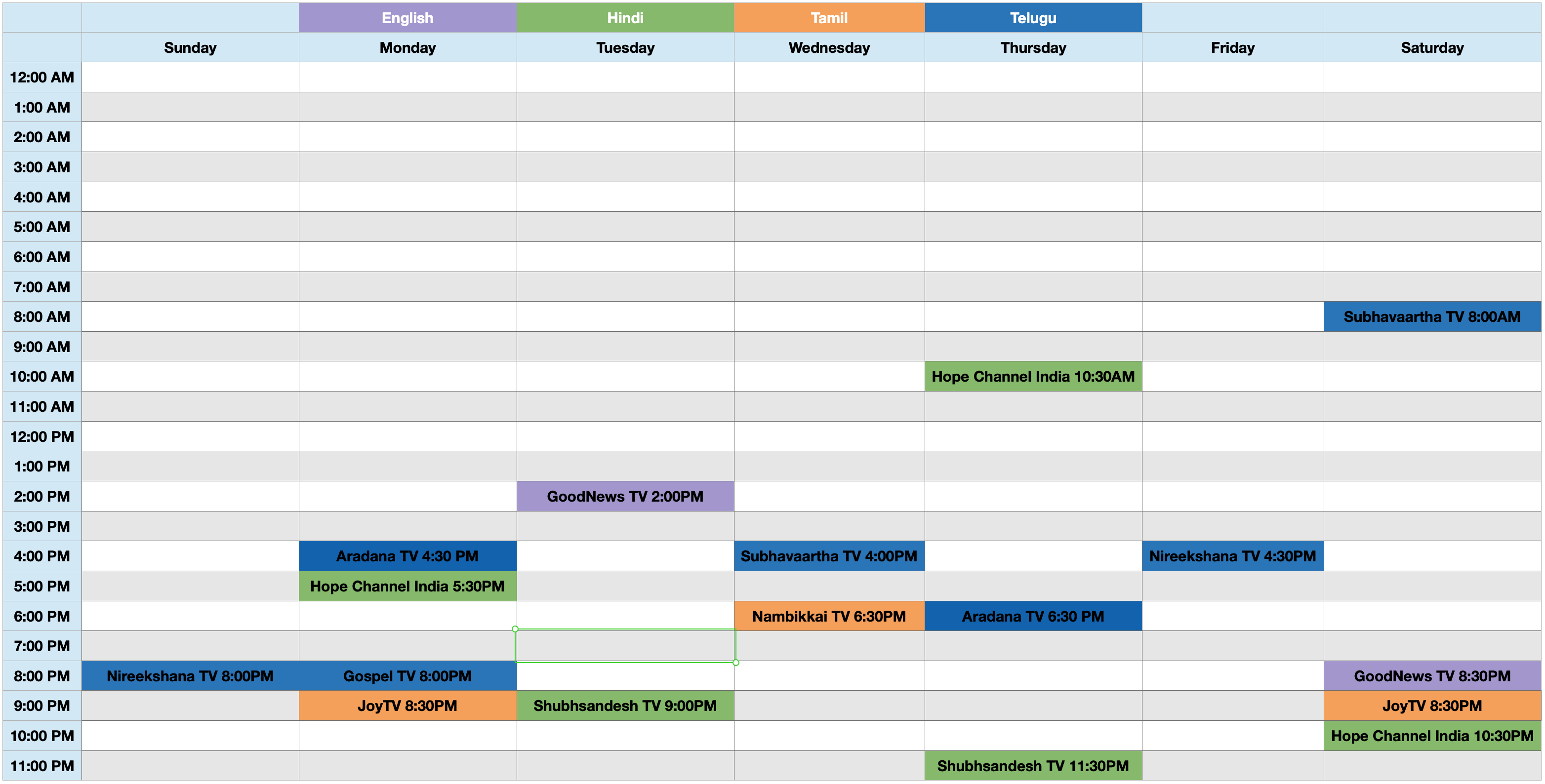 Don't have Satellite or Cable? No Problem!
You can also watch Live through the various TV station Websites or Mobile Apps!
English Broadcasts
GoodNews Television
Watch Online
Amazing Facts with Doug Batchelor
Tuesday: 2:00 PM
Airtel DTH - 695
Den Network - 871
Amazing Facts with Doug Batchelor
Saturday: 8:30 PM
Airtel DTH - 695
Den Network - 871
Hindi Broadcasts
Shubhsandesh Television
Watch Online
Amazing Facts with Doug Batchelor
Tuesday: 9:00 PM
Airtel DTH - 694
Den Network - 867
Amazing Facts with Doug Batchelor
Thursday: 11:30 PM
Airtel DTH - 694
Den Network - 867
Tamil Broadcasts
Joy TV Chennai
Watch Online
Amazing Facts with Doug Batchelor
Monday: 8:30 PM
TCCL - 1222
VK Digital - 1222
Amazing Facts with Doug Batchelor
Saturday: 8:30 PM
TCCL - 1222
VK Digital - 1222
Nambikkai Television
Watch Online
Amazing Facts with Doug Batchelor
Wednesday: 6:30 PM
Airtel DTH - 817
Tata Sky - 1575
Videocon DTH - 578
Telugu Broadcasts
Gospel TV India
Watch Online
Amazing Facts with Doug Batchelor
Monday: 8:00 PM
Nireekshana Television
Watch Online
Amazing Facts with Doug Batchelor
Sunday: 8:00 PM
Hathway Digital 101
Amazing Facts with Doug Batchelor
Friday: 4:30 PM
Hathway Digital 101
Subhavaartha Television
Watch Online
Amazing Facts with Doug Batchelor
Wednesday: 4:00 PM
Airtel DTH - 941
Tata Sky - 1441
Amazing Facts with Doug Batchelor
Saturday: 8:00 AM
Airtel DTH - 941
Tata Sky - 1441